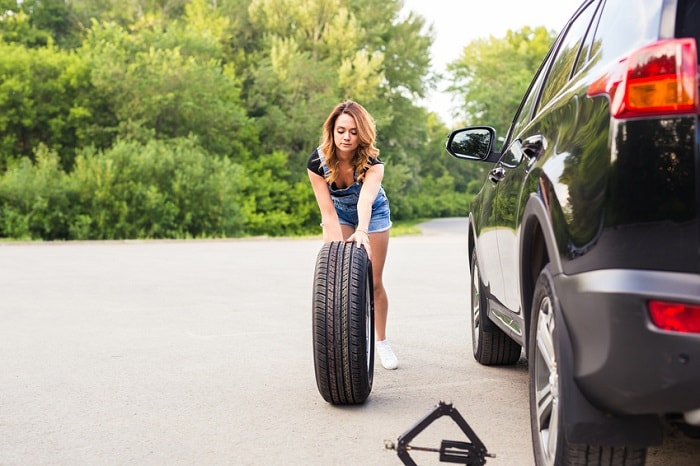 Let's face it, most people just hope they are never faced with a flat tire. And, if they do happen to end up stranded, a lot of people may need roadside assistance or even a tow to get back on the road. However, sometimes outside influences intervene and all you can count on is yourself. That's why we stress that everyone with new Ford vehicles know how to change a tire.
If you notice that your vehicle is thumping or pulling to one side, you probably have a flat. You should exit the road as quickly and carefully as you can as you can receive a lot of damage from driving on a flat tire. Be sure to carefully exit your vehicle to inspect the damage. You also need to engage your emergency brake and turn on your emergency flashers for an added safety measure. If you feel you aren't on a stable or flat terrain, you may want to add a brick behind the opposite tire for additional security.
Loosen the lug nuts on your flat tire without completely removing them. Beware, they can be very tight and difficult to remove. Then, jack up your vehicle so your tire is completely off the ground. Once you have adequate ground clearance you can completely remove the lug nuts and your tire. Replace the flat with your spare tire and securely reattach it with the same lug nuts.
Be sure to visit our Omaha-area Ford service center to get a replacement tire as soon as you can. We can get you up and running in no time. In the meantime, come see us for a tire check-up – we'd like to help you avoid a flat altogether!